Here it is, a release of my new text drawing engine for Ti. It is now more functional, and I have made it a library : hibLib. The new features are bold, italic, hierarchical bookmarks, real hypertext links, etc…
For the moment, the graphical user interface is quite basic, but this will be improved !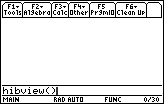 More info about it on the hibView page.